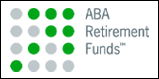 Does your retirement plan offer no out-of-pocket expenses, professional fiduciary services, a broad range of investment options, and full-service administration?  Ours does!  The ABA Retirement Funds Program ("the Program") has been providing affordable 401(k) plans exclusively to the legal community for 50 years.  The Program's bundled approach allows your firm to keep its focus on the success of the practice.  We provide you with trustee, record keeping, tax reporting, compliance testing, investment management, and participant communication services - all from a single source - at no additional cost to your firm.  Maybe it's time to find out what's inside your 401(k).  Call us at 866‑812‑3580 for a free consultation or visit www.abaretirement.com for more information. 
ABA Retirement Program's 401(k) Plans for Solo and Small Firms
Over the past 50 years, the ABA Retirement Funds Program has helped thousands of attorneys set up a retirement plan for themselves and their small firm. Getting started is easy... The Program can help you through 4 simple steps to get started. Each step only takes a few minutes and the entire process can be completed in as little as 2 weeks! No cost to your firm...Your firm will never get an invoice from the Program. By leveraging the size of the legal community and with over $5 billion in assets, the Program is able to minimize all firm-level set-up and on-going administrative expenses. No firm is too small...One person is enough to have a 401(k) plan. Over 60% of the Program's clients are solo or small firms. When it comes to retirement plans, we understand www.abaretirement.com the legal community and can help you build a plan that meets your specific needs. Please don't hesitate to call us for a free consultation. Click here for 401(k) plans for solo and small firms from the ABA Retirement Program.