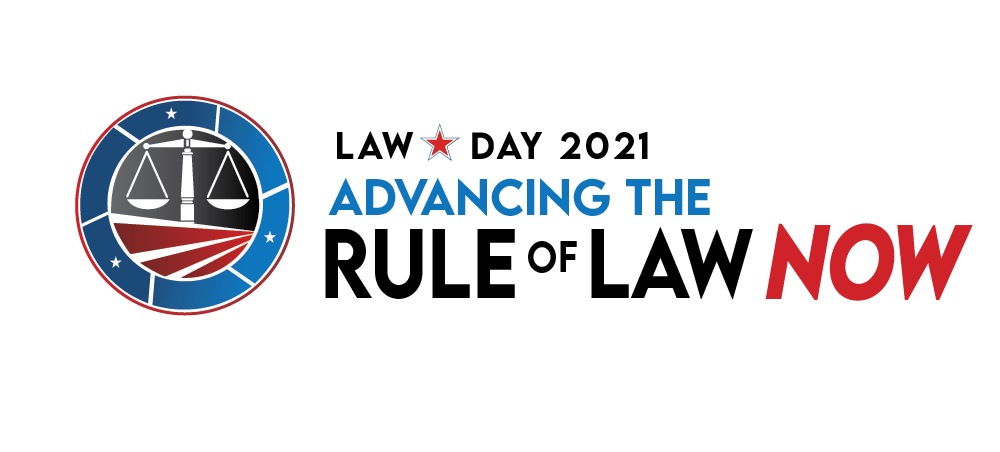 Advancing the Rule of Law
The rule of law is a set of principles, or ideals, for ensuring an orderly and just society. Many countries throughout the world strive to uphold the rule of law where no one is above the law, everyone is treated equally under the law, everyone is held accountable to the same laws, there are clear and fair processes for enforcing laws, there is an independent judiciary, and human rights are guaranteed for all. 

The rule of law is the bedrock of American rights and liberties—in times of calm and unrest alike. The 2021 Law Day theme—Advancing the Rule of Law, Now—reminds all of us that we the people share the responsibility to promote the rule of law, defend liberty, and pursue justice.
2021 Law Day Art Contest Flyer
2021 Contest Rules: 
1st -3rd place awards will be presented to winners at each school. 1st place winners from each school will be judged for statewide awards.
The contest will be judged at each grade level (K - 12).
Statewide winners will be presented with award certificates and artwork will be displayed online, and also presented in the summer issue of The 
Mississippi Lawyer magazine.
Artwork must be submitted via email and must be received by April 1, 2021.
Artwork must be student's own work; no tracings, no glitter, no coloring pages from internet or anywhere else where outlines are already drawn.
Artwork must reflect the theme – "Advancing the Rule of Law"
All mediums accepted. Creativity is awarded. Color is preferred.
Each must be done on at least 8.5 x 11 paper.
Organize multiple entries by school grade before submitting.
Submission: Email ONLY
Email the below information to hharrison@msbar.org
Please submit a high-resolution image of the artwork and save the file as the students' name, grade, and age.
Examples:
Sally Sample_3rd_8yr.jpg
John Johnson_K_5yr.png
Along with an image of the artwork, please include the required judging and contact information in the email below.
• Teacher Name
• Teacher Email
• Teacher Phone
• School Name
• School Address