2018 Law Day Art Contest Theme Announced!
Separation of Powers: Framework for Freedom 
The U.S. Constitution sets out a system of government with distinct and independent branches—Congress, the Presidency, and a Supreme Court. It also defines legislative, executive, and judicial powers and outlines how they interact. These three separate branches share power, and each branch serves as a check on the power of the others. "Ambition must be made to counteract ambition," James Madison explained in Federalist 51. Why? Madison believed that the Constitution's principles of separation of powers and checks and balances preserve political liberty. They provide a framework for freedom. Yet, this framework is not self-executing. We the people must continually act to ensure that our constitutional democracy endures, preserving our liberties and advancing our rights. The Law Day 2018 theme enables us to reflect on the separation of powers as fundamental to our constitutional purpose and to consider how our governmental system is working for ourselves and our posterity.
2017 Law Day Art Contest
2017 Statewide Winners Art Gallery 
2017 Statewide Winners: These students' artwork will appear at the MS State Capitol May 1st – 5th. 
Each year the legal community and people across the nation celebrate Law Day USA on May 1. Law Day provides an opportunity for all Americans to celebrate and learn about our country's court system. The theme for The Mississippi Bar's 2017 Law Day Art Contest is: The 14th Amendment: Transforming American Democracy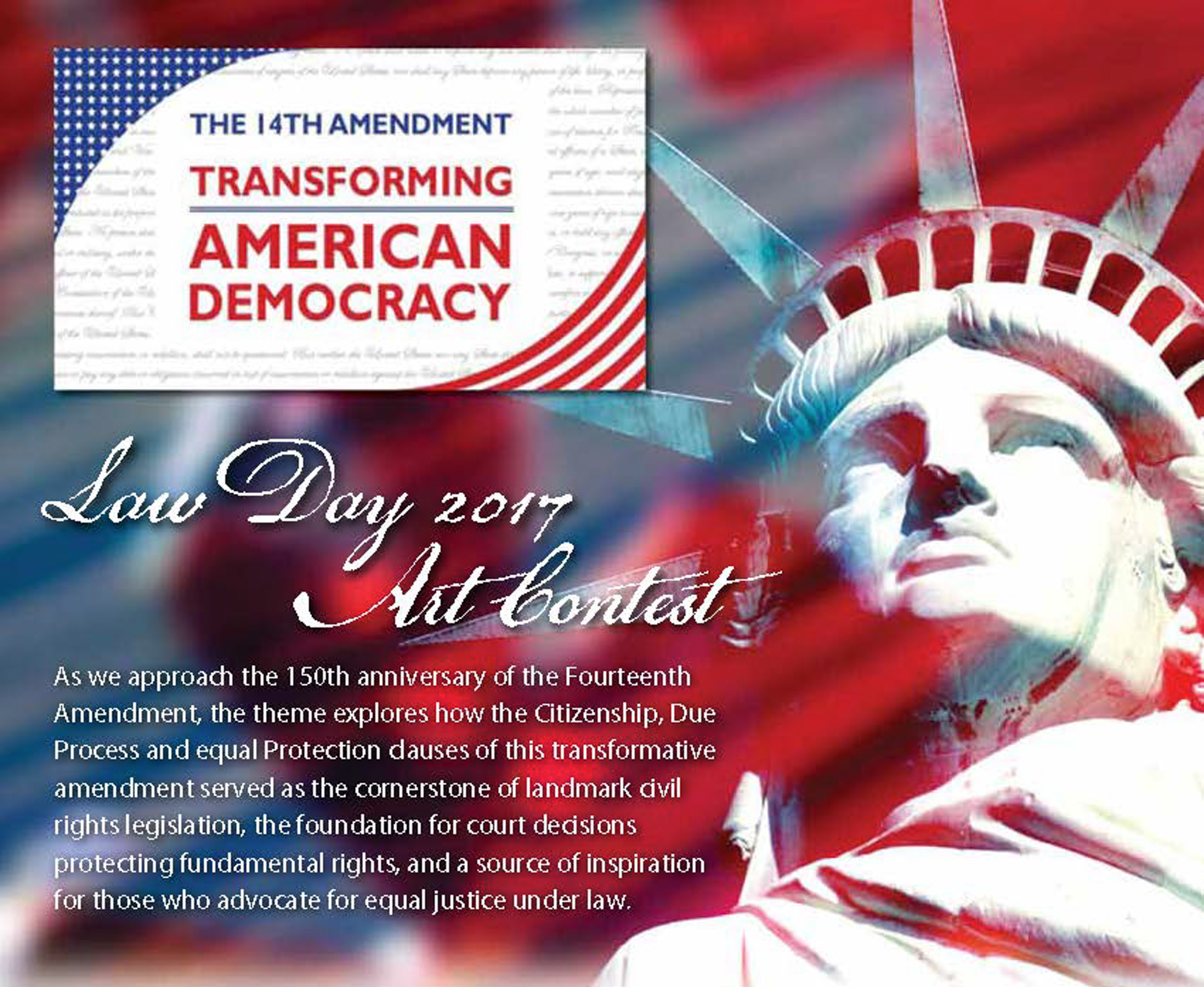 As we approach the 150th anniversary of the Fourteenth Amendment, the theme explores how the Citizenship, Due Process and equal Protection clauses of this transformative amendment served as the cornerstone of landmark civil rights legislation, the foundation for court decisions protecting fundamental rights, and a source of inspiration for those who advocate for equal justice under law.

2017 Entry Form Flyer - Deadline has passed
Contest Rules: 
1st -3rd place awards will be presented to winners at each school. 1st place winners from each school will be judged for statewide awards.
The contest will be judged at each grade level (K - 12).
Statewide winners will be presented with award certificates and artwork will be displayed in the Capitol May 1st - 5th, and also presented in the summer issue of The Mississippi Lawyer magazine.
Artwork must be submitted on an 11" x 14" poster board (1/4 of a standard-sized poster board) and received by Friday, April 7, 2017.
Artwork must be student's own work; no tracings, no glitter, no coloring pages from internet or anywhere else where outlines are already drawn.
Artwork must reflect the theme -The 14th Amendment: Transforming American Democracy
All mediums accepted. Creativity is awarded. Color is preferred.
Each 11" x 14" poster must have the label from the flyer (which can be enlarged) affixed to the back of the artwork that provides the required judging and contact information. 
Organize Entries by grade before submitting.
For more information, please contact Krissa Dobbins Easley at keasley@msbar.org
2016 Winners 
2016 Statewide Winners
2016 Winners By Grade
2016 Winners By School