The Fellows designation is the Foundation's highest honor. Only 10% of the lawyers in Mississippi are eligible for membership as a fellow. Their selection is recognition by their peers that the attorney has achieved the highest level of professionalism, competence and leadership. Fellows are selected for membership based not only on their excellence as a lawyer but also by their dedication and service to the public and profession.
Mississippi Bar Foundation 2017 Fellows Induction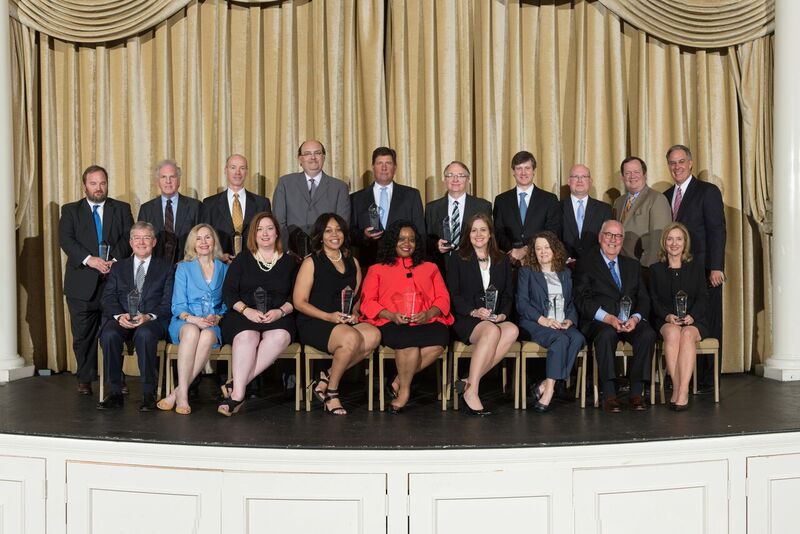 Twenty attorneys were elected as "Fellows" of the Bar Foundation at the Foundation's Annual Meeting on April 13 in Jackson.  
Pictured (2nd row, L to R) James L. Wilson, IV, Greenwood; F. Hall Bailey, Jackson; Lee Thaggard, Meridian; Pieter Teeuwissen, Jackson; Stephen P. Kruger, Jackson; Brehm T. Bell, Bay St. Louis; Edward "Ted" P. Connell, Jr., Clarksdale; D. Andrew Phillips, Oxford; Bobby L. Dallas, Ridgeland; and James K. Wetzel, Gulfport.
(Seated, left to right) – Tommie S. Cardin, Ridgeland; Susan R. Tsimortos, Jackson; Margaret O. Cupples, Jackson; Judge Carol L. White-Richard, Indianola; Crystal W. Martin, Jackson; Michelle D. Easterling, West Point; Gwen G. Combs, Hattiesburg; Judge Prentiss G. Harrell, Hattiesburg; and Susan L. Steffey, Jackson. Not pictured:  John F. Hawkins, Jackson.