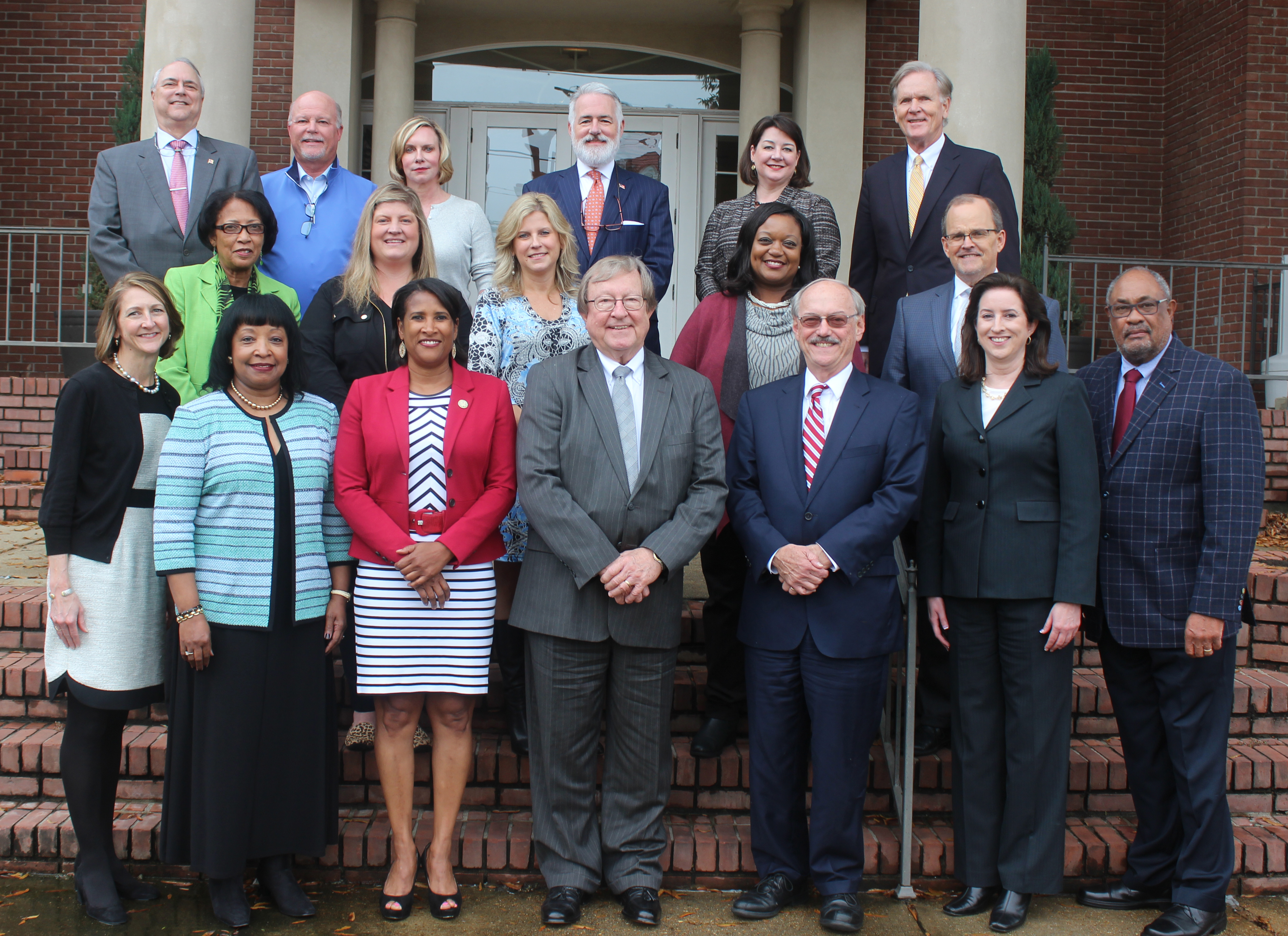 Pictured (left to right)
Back Row:  Steven E. Farese, Ashland; W. Thomas Siler, Jr., Jackson; Judge Jane M. Virden, Greenville; Anthony L. Farese, Ashland; Jennifer Ingram Johnson, Hattiesburg; and William L. McDonough, Jr., Gulfport.
Middle Row:  Judge Linda R. Anderson, Jackson; Ann Marie M. Pate, Cleveland; Tammra O. Cascio, Jackson; Crystal Wise Martin, Jackson; and Sam C. Kelly, Jackson.
Front Row:  Amanda Jones Tollison, Oxford; Patricia W. Bennett, Jackson; La'Verne Edney, President-Elect, Ridgeland; David W. Houston III, President, Tupelo; Karl R. Steinberger, Past President, Pascagoula; Deanne M. Mosley, Jackson; and Ben T. Cole, Jr., Oxford.
Not Pictured: J. Cal Mayo, Jr., Oxford; and Felicia Dunn Burkes, Hattiesburg.
MISSISSIPPI BAR FOUNDATION, INC.
2019-2020 OFFICERS AND TRUSTEES
President
La'Verne Edney, Ridgeland 

President-Elect
William T. May, Meridian

Immediate Past President
 David W. Houston III, Tupelo
Trustees (Northern District)
Cal Mayo, Jr., Oxford
Steven E. Farese, Sr., Ashland
Judge Lawrence L. Little, Oxford
Trustees (Central District)
Tammra O. Cascio, Jackson
Samuel C. Kelly, Jackson
Margaret Oertling Cupples, Jackson
Trustees (Southern District)
William L. McDonough, Jr., Gulfport
Jennifer Ingram Johnson, Hattiesburg
Grant Bennett, Hattiesburg
Trustees (At Large)
Anthony L. Farese, Ashland
Judge Crystal Wise Martin, Jackson
Orlando R. Richmond, Sr., Ridgeland
Designated Trustees
Amanda Jones Tollison (President MB) Oxford
Jennifer Ingram Johnson (President-Elect MB) Hattiesburg
Ben T. Cole, Jr. (Legal Services Corp) Oxford
Jaklyn Wrigley (YLD President) Gulfport